About Us
The Grains Industry
The Milling and Cereal Processing industries are ultimately in the chain linking agricultural production to consumers of food and are therefore vitally linked to the food sector and the requirements of that industry. The value chain of linkages is often described as the Agrifood chain and organizations in the chain referred to as part of the Agribusiness category.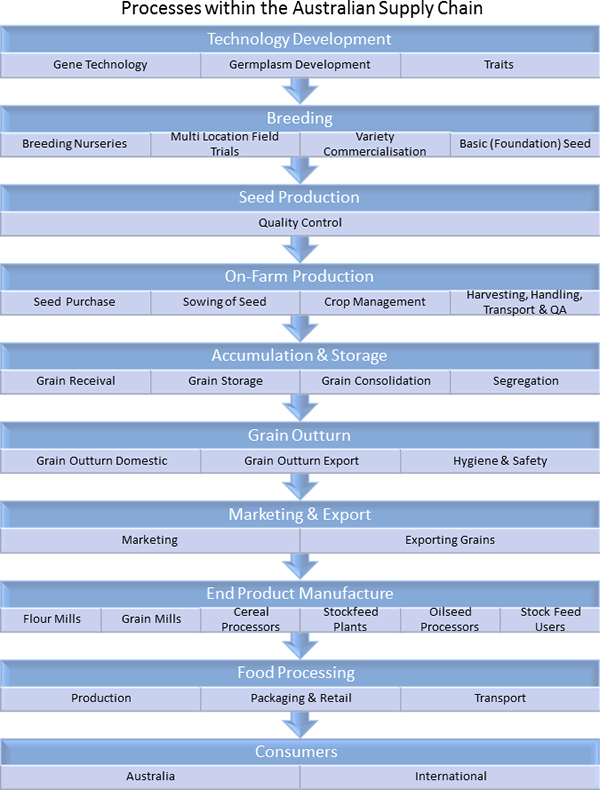 The grains industry consists of farms mainly engaged in growing coarse grains or other cereal crops broken up into distinct product groups:
wheat – which includes bread wheat and durum, used in the production of pasta products
rice – which includes milled and whole grain polished products;

coarse grains – which include barley, sorghum, oats, triticale and maize;

oilseeds – which include canola, cottonseed, sunflower seeds and soybeans; and

pulses – which include lupins, field peas and beans.
Australia is one of the world's largest grain producers and exporters. In 2009–10, approximately 60 per cent of the Australian grain crop was exported, mainly to countries in Asia and the Middle East.
Wheat is by far the largest crop, contributing approximately 57 per cent of Australian grain exports by value. Barley (10 per cent), oilseeds (eight per cent) and pulses (six per cent) make up the majority of remaining production.
With good seasonal conditions, Australia can produce a grain crop of up to 40 million tonnes. However, the productivity, profitability and global competitiveness of Australian grain farms are affected by yields, production costs, commodity prices and fluctuations in the exchange rate.
The grain harvest's volume and value is also significantly influenced by seasonal conditions. Production (44.5 million tonnes) in 2005/06 (the 2005 cropping season) illustrates the potential productivity of the sector in a 'good year'. In contrast, in 2006/07 total grain crop production was only 19 million tonnes—the impact of widespread drought The industry is characterised by a predominance of winter cereals produced over a wide geography and in a number of distinct agro-ecological zones with unique climate/soil characteristics and diverse management requirements.
The main potential impacts on the Australian grains sector with regard to the global grains industry and international markets are:
Deregulation in both the purchase and supply of agricultural products. There has been a major change over the past 15 years from 'single desk' buyers to multiple buyers (e.g. significantly increased container trade/markets), and from government-backed statutory marketing bodies to a free market;
Intensifying global competition: the emergence of the 'Black Sea' countries (e.g. Ukraine) and potentially South America as major grain exporters.
Increasing consumption in China, India and other Asian markets;
North America adopting a more aggressive approach to growth markets in Asia;
The adoption of GM crops (corn, soybean and canola) leading to major change in the relative production of wheat in North America;
Projected long-term grain shortages and volatility of supply leading to high prices and potential food shortages.
Diversion of grains into biofuels production and away from human or animal consumption, particularly in North America;
Decreasing land available for grains production through degradation and urbanisation;
Increasing regulatory and customer requirements in international markets including low chemical residues, traceability, carbon footprints, unintended GM presence etc;
Potential incursions of diseases prevalent overseas and their likely consequence to Australia;
Increased globalisation and consolidation of the grains industry supply/value chains.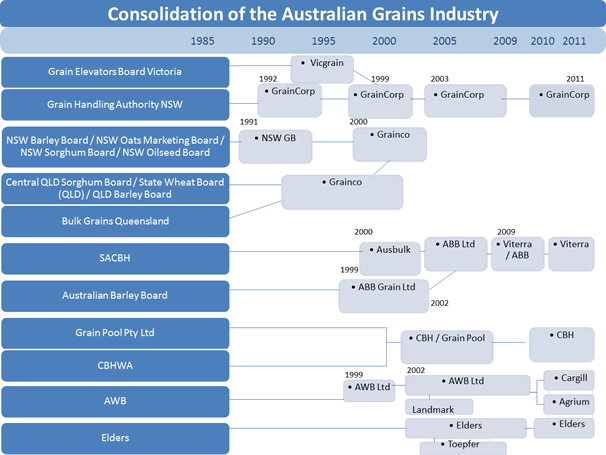 Major trends within the Australian grains industry include:
Consolidation across the grains industry supply chain leading to a reduction in the number of large grain accumulators/marketers. There are four major participants: Viterra (formerly ABB Ltd); Cooperative Bulk Handling Ltd, GrainCorp and AWB Ltd (Cargill & Agrium);
Increased vertical and horizontal integration, for example CBH and GrainCorp have forward integration in flour milling; Viterra and GrainCorp in barley malting, and AWB Ltd into rural services through their Landmark business;
Increased overseas ownership/involvement in the grains industry supply chain with the recent examples of Viterra's acquisition of ABB; and acquisition of the assets of AWB by Cargill & Agrium.
Deregulation of the bulk wheat export market enabling the entry of international grain traders and expansion of local traders;
Continued rationalisation of suppliers of the major grain production inputs - fertilisers and chemicals – and matching rationalisation in rural distribution;
The emergence of the north-eastern and south-eastern regions as a predominantly domestic market with processing, human consumption and livestock feed markets growing rapidly. In excess of 50% of grain produced on Australia's eastern seaboard is now consumed domestically; with up to 90% in years of livestock feed shortage. The Western region and south-western South Australia in contrast is growing in significance as the industry's major grains exporter;
The Australian Wheat Industry
By far the largest enterprise in the Australian grain industry is wheat production, with an annual gross value of $5.596 billion in 2003-04. Wheat exports contribute $4-5 billion annually to the national economy, accounting for 3% of Australia's total export revenue. Although Australia is a relatively small producer of wheat, accounting for only 3% of world output due to its low domestic population base, Australia accounts for between 15-18% of total world exports making it a major participant in the export market. The main wheat export markets are concentrated in Asia and the Middle East with Indonesia, Egypt, Iraq and Japan and in recent years the market to China has grown.
Australia consumes around 5 million tonnes of wheat annually, with the remainder of production being exported. Approximately 2.5 million tonnes are used annually in the production of flour, whole grain products, beer etc., for human consumption, and in the production of gluten and starch etc., for industrial uses. A further 2.5 million to 3 million tonnes is used annually as stock feed but can vary markedly depending on seasonal price differences between wheat and other substitute grains as well as livestock prices. While this sector of the market is very sensitive to price movements, it is a rapidly growing market in response to an expanding intensive livestock feeding industry. In addition, around 0.5 – 0.6 tonnes of wheat is used for seed each year for the production of the following season's crop.
The wheat industry in Australia had its beginnings over 200 years ago when Governor Phillip, realising the need to make the colony self sufficient in food, instigated farming operations on nine acres of land at Farm Cove. However, it very soon became apparent that the land at this site was too sandy to support crops so in November 1788 he established a 40 acre government farm at Parramatta. However, there were many obstacles to preparing the land and achieving acceptable yields. Problems farmers faced included inappropriate wheat varieties, labour shortages, lack of appropriate tools and agricultural knowledge, infertile soil, poor rainfall, and plant diseases.
With the settlement of Victoria, South Australia and Western Australia during the 1830s and 1840s, cultivation of wheat expanded rapidly. Assisting the expansion of the wheat industry into large scale operations were the inventions of the scrub roller, the 'stump jump' plough and the header harvester. Between them, these machines allowed for the clearing and preparation of large tracts of land and harvesting of the bigger crop. The opening up of the inland country railway network in the 1880s greatly improved the efficiency of crop transportation.
Complementing these mechanical advancements was research into new wheat varieties more suitable to the Australian environment and mechanical harvesting, and more resistant to disease. One of the pioneers in this field was William Farrer who, in the late-1800s, bred a number of new wheat varieties. The most notable of these was an early-maturing wheat strain named 'Federation' which was drought and disease resistant.
In later stages, growth of the Australian wheat industry was supported by changes in many farm management activities, including the introduction of mixed farming, crop rotation, application of fertilisers, improvements in cultivation techniques, and, since the 1940s, the use of tractors. The improvement of bulk grain handling systems, development of chemicals to combat diseases, pests and weeds, and the further development of higher yielding disease resistant wheat strains are some of the off-farm activities that continue to make important contributions to the industry.
Wheat growing areas are determined by soil type, soil fertility, topography and rainfall. Rain should predominantly fall during the winter and spring months and needs to be of an annual average between 400 and 600 millimetres per year at a minimum. Suitable conditions prevail on mainland Australia in an area west of the Great Dividing Range known as the wheat belt which stretches from Central Queensland through New South Wales and Victoria and on to South Australia in the form of a narrow crescent, continuing into the south west of Western Australia. In addition, a small area of land in Tasmania is used for growing wheat.
Since the beginning of the 20th century, wheat yields have steadily been improving. In the early-1940s, average yield broke through the 1 tonne per hectare (tonne/ha) barrier. This was due to the introduction of new varieties better suited to the Australian environment and improved farming practices. In the 1950s, average yield generally remained above the 1 tonne/ha level and 1.5 tonnes/ha was achieved for the first time in 1979 (with 1.77 tonnes/ha). Since 1989, yield has remained consistently above 1.5 tonnes/ha except in a few years of adverse weather conditions. The record national average yield of 2.11 tonnes/ha was set in 2002.
Over the last century, major fluctuations in the price of wheat have been caused by wars, the Depression, unreliable climate and volatile market forces. However the long-term trend for price levels is downwards, driven mainly by supply and demand factors with the end result being a fall over time in the unit value (price) of wheat expressed in prices prevailing in 2004 (graph S14.4). In this period, while production costs have also declined due to increasing efficiency and adoption of technology, this has not been enough to prevent a decline in net returns (or 'profits') to wheat farmers over time.
In Australia, most wheat is planted during April, May and June as the seed requires the colder weather to germinate. This allows harvesting before the onset of harsh summer weather conditions. The harvest begins in Queensland during September and October and ends in Western Australia during January. Much of the harvest is undertaken by specialist contractors who commence harvesting in Queensland and follow the ripening grain crops down to Victoria.
Australia predominantly grows the white grained wheat varieties which have a higher rate of flour extraction, and generally does not grow the red grained wheats produced, for example, in North America.
Two important species of wheat grown in Australia are Triticum aestivum and Triticum durum. The former is known as common milling wheat and the latter is known as durum wheat. The products produced from milling wheat, such as bread and noodles require a wheat variety with hard grain (important in the milling process) and with a high level of good quality protein for better volume, softer crumb and better keeping qualities. Durum is noted for its extreme hardness and is used mainly for making pasta and couscous.
Initially, storage and handling of wheat relied on the humble sack - millions of them! This style of operation commenced phase out during the 1920's in favour of a bulk handling system took until the 1950's before all mainland states had implemented their own version of bulk handling.
Bulk handling led to considerable saving of time and money. Further benefits were gained from reduction in the deterioration of long-standing stacks of bagged wheat and from the protection of wheat from mice, weevils, climatic conditions and leakage.
The Flour Milling Industry
In the 1870s there were more than 500 flour mills in Australia using steam, water or wind as the power source, with most large country towns having their own flour mill. With improved technology, larger mills, and less overseas demand for the milled product (as developing countries established their own facilities), the number of mills in Australia has now declined to the order of 28 spread across all States and situated in both metropolitan and country areas.. This continuous trend of fewer but larger capacity mills with fewer employees is common to countries with highly mature milling industries. However, with the growth in Australia's population, demand for flour products at home has increased steadily.
Annual domestic human consumption of flour is about 1.5 million tonnes and a further 440 thousand tonnes of flour is used for industrial purposes such as starch and gluten. In addition a variable tonnage of flour products are sold into export markets. Total production in the order of 2.1 million tones an increase of 26% over a decade. Of the flour sold for human consumption, just over 60% is used by specialised commercial bread bakers.
Wheat is the flour millers obligatory raw material as unlike other end users, there is not the luxury of being able to substitute other grains. The flour milling industry therefore has a vital interest in the sustainability and profitability of the Australian wheat industry. Domestic use of the wheat crop accounts for 25% of the typical crop year in, year out. Clearly this is a significantly higher percentage in low yield years (drought). There is a need and responsibility for those engaged in the industry to support the grain based food industries and food security in Australia.
On a regional basis, the domestic market is even more significant. Most of the WA and SA crop is exported, but in the eastern States domestic consumption is higher and the crop smaller. The domestic market requirement in the eastern states of QLD, NSW and VIC is 45% of the wheat crop in those states, leaving 55% for export.
Millers produce a range of flours to meet the various, yet very specific, quality requirements of customers. To do this, they need to source a range of wheats and then blend them to produce the particular flour characteristics demanded by each customer. The Miller's basic objectives for wheat supply can be summarised as follows:
Access: Reliable access to a full range of wheats.
Supply: Reliable supply of all required varietal parcels and grades of grain throughout the year, and season by season to maintain standards of consistency to end users.
Quality: A sufficiently wide spread of varieties and grades and homogeneity within grades. Ultimately, wheat quality is dependent on appropriate measures being taken at each of the following stages: wheat breeding, planting and growing decisions, segregation by protein and other quality attributes, segregation by variety (variety being the main determinant of protein quality).
The Flour Miller requires confidence that his wheat supply will meet all standards of hygiene & product safety and be available as required throughout the year.
The StockFeed Industry
Total animal feed use within Australia is estimated to be 11.9 MMT in 2007/08 (Spragg 2008), this volume does not however account for volume increases due to drought feed demand years. It is estimated that 60.5% of this feed is supplied from dedicated manufacturing mills and the remaining 39.5% is mixed on the site of livestock production. On site feed manufacture applies to beef feedlots as well as farmers mixing their own feeds. The stockfeed industry continues to grow year in year out and demands increasing quantities of grain supply the main component of raw material usage.
The supply of animal feed plays a critical role in supporting the production of livestock products such as meat, milk and eggs. Australia's competitive advantage in exporting livestock products is in part due to the access of suitable raw materials for the supply of animal feeds. Maintaining a safe and reliable supply of stockfeed is recognised as an essential component of Australia retaining its position within the global market.
The Future
The long-term future of the Australian wheat (and grains) industry will be subject to many challenges, including resource sustainability and infrastructure development, climate change, international price distortion and disease risks. Of note is the impact of ownership of processing by overseas interests, a trend also being seen in the agriculture and food industries.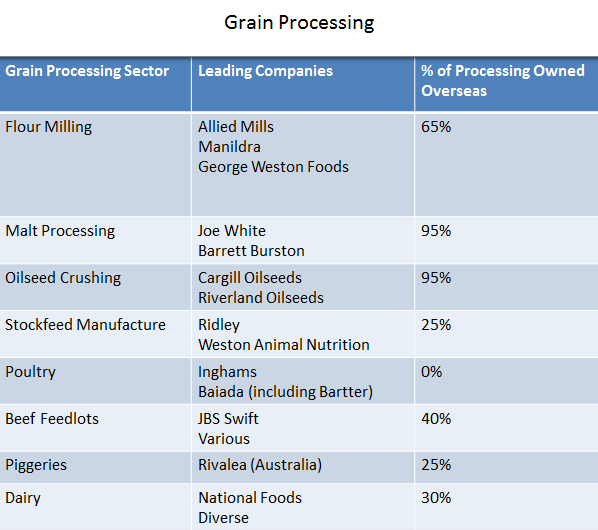 Based on previous performance of co-operation across the value chain the wheat industry is capable of overcoming these challenges and will continue to make an important contribution to the Australian economy and world food markets.
There are also some bright lights on the horizon for grain producers, such as the expanding intensive livestock feeding industry and the possibility of use being made of grain-based fuels.