Training
Training Overview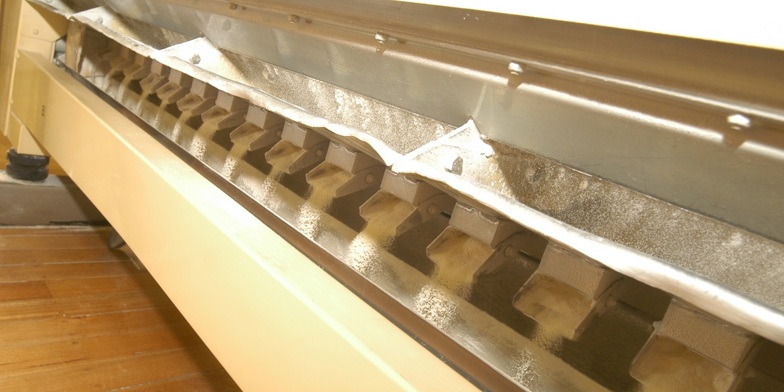 The traditional form of training for Australian flour millers has been the National Association of British & Irish Millers (nabim) correspondence course. Formerly referred to as City and Guilds, the course is recognised world wide as a reputable form of training for flourmillers. There are 7 modules which are typically completed over 2-4 years. Participants can set their own completion time by the number of modules they choose to complete per year.
ATMA co-ordinate the nabim distance learning course for Australia, New Zealand and the Pacific Islands. ATMA provide the administrative function, tutors, as well as offering achievement awards to students we co-ordinate. It is important that students have an engaged and supportive on site co-ordinator, mentor and mill management to assist in their learning.
In 2017, ATMA began working with AEGIC in Sydney to provide a "practical hands on learning experience" to complement nabim modules 2 and 3. The course is run at their Pilot Mill in Sydney and covers the Screenroom and Mill Processes.

AEGIC Course Outcomes
Understanding of the machinery. This will be achieved by inspecting/opening up each machine, explaining how it fits together and works, safety aspects and practical aspects of actually running/adjusting each machine. It is hoped that this will flesh out and reinforce the machinery/engineering components of modules 2 and 3.
Understanding of the processes. This will be achieved through a number of practical exercises in which students need to adjust mill equipment while the mill is running, observe changes to the stocks, solve problems, etc. It is hoped that this will bring together the process components of modules 2 and 3 so student begin to understand flow diagrams, etc.
This course is designed to help those studying nabim modules 2 & 3 as well as help new millers better understand the technical aspects of how a mill is run.
HISTORY OF TRAINING IN AUSTRALIA

The Milling Industry in Australia has undergone major structural change over the past 25 years. Over this timeframe the number of mill sites has decreased by over 30%, the average mill capacity has doubled and the number of operatives employed in each mill sharply reduced due to technology and automation gains, resulting in an estimated decrease of at least 40% operatives employed.
The industry has enjoyed massive productivity gains but with consequential impact of an era of highly trained and skilled technical millers has departing the industry with their protégés in much reduced number.
Additionally the time and resource for on the job training is severely reduced.
At the 2010 Australasian Milling Conference held in Melbourne speakers in both the Flour Milling and StockFeed sessions addressed the issue of benchmarking Australian industry competiveness against international standards. Despite satisfactory ranking in most categories, that of training of mill operatives scored poorly, and was seen as an area of concern. Training was described as deficient and requiring ongoing investment.
Agrifood Skills Australia has identified industry needs from training;
"Australia's training system needs to undergo a fundamental shift from a system driven by the needs of providers and agencies seeking funding and subsidies towards a system that responds to the needs of industry and the economy – and which provides graduates with more relevant qualifications and a better chance of securing a job."
"The publicity funded training system must respond to this reality and offer bite sized 'building blocks' of skills in addition to 'base qualifications'. Much frustration is expressed by pro-active training providers at the funding regime and the system's ideological fixation with whole qualifications as the easily measurable currency for enrolment, funding and evaluation of a training provider's performance. Quite simply, how we manage the training system and 'offer' recognised training, bears little resemblance to how Agrifood enterprises and employees need to acquire skills."
Competency Training has been relatively poorly accepted by the flour milling industry in Australia with the availability of the correspondence course a possible influence.

Competency training
and the
nabim distance learning course
are distinctive and independent but are highly complementary modes of training.
Flexibility and autonomy allows for individual company needs to be met through the selection, application and use of available resources.